IMDR Pune is delighted to invite you to the National Conference on the theme of "Small and Medium Enterprises in India - Challenges, Growth Opportunities and Ease of Doing Business" scheduled on 28th and 29thFebruary 2020 at IMDR, Pune.
The Objective of the conference is to bring Entrepreneurs, Research Scholars, Experts, Academicians, Students, Policy makers, and other stakeholders on a single platform to understand the opportunities and challenges faced by SMEs with a view towards ease of doing business in the contemporary environment
The conference aims to provide a forum for academics, researchers, practitioners as well as entrepreneurs and students' to exchange ideas and keeping abreast of recent developments. Theoretical, empirical, and policy-oriented contributions from all areas of entrepreneurship research are welcome.
We invite your original research work, case study and working paper
Cash Prize of Rs. 5,000/- for 1st Best Paper
Cash Prize of Rs. 3,000/- for 2nd Best Paper
Separate Students' Track for research papers and case studies presentations. Selected presentations would be awarded a 'Certificate of Merit'.
We look forward for your participation in the conference. Also, we request you to kindly share the information with your colleagues, friends and students' so that they can also be benefited from the same.
Kindly refer to the attached brochure for all necessary details.
(Click image to view the brochure)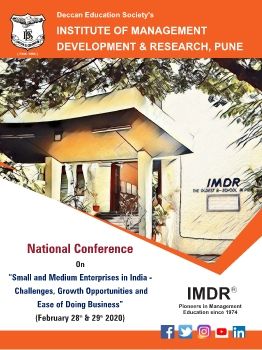 Any queries regarding Conference can be routed to: conference@imdr.edu
Programme, Registration and Research Paper-related Queries
Dr. Suraj Kamble
Mob : +91 9173074297
Dr. Shruti Nagar
Mob : +91 9897910917
Dr. Giribala Dewasthale
Mob : +91 9822242101