National Conference on  "Aatma-Nirbhar Bharat Prospects, Challenges and Opportunities" (March 05 - 06, 2021 ) at IMDR, Pune
The Deccan Education Society (DES),
Pune was established in 1884 by the stalwarts of India's freedom struggle, Gopal Ganesh Agarkar and Bal Gangadhar Tilak and later built by great personalities of the era, Gopal Krishna Gokhale and Dhondo Keshav Karve (honoured with Bharat Ratna). Currently, DES runs educational institutions in Western Maharashtra which includes schools, colleges, technical institutes and autonomous institutes in the field of management, law, agricultural education and vocational training.
The Deccan Education Society's (DES) Institute of Management Development and Research (IMDR) is the first management institute started in Pune in 1974. IMDR runs Two years Post Graduate Diploma in Management approved by All India Council of Technical Education (AICTE).
The conference committee is delighted to invite you to the National Conference on the theme of "Aatma-Nirbhar Bharat Prospects, Challenges and Opportunities" scheduled on March 05 - 06, 2021 at IMDR, Pune.
The Objective of the conference is to bring together practitioners, researchers, academicians and students to interact and disseminate information on the prospects, challenges and opportunities for economy, infrastructure, system, vibrant demography, demand and self-reliance under Aatma-Nirbhar Bharat Abhiyan
The conference aims to provide a forum for academics, researchers, practitioners as well as entrepreneurs and students' to exchange ideas and keeping abreast of recent developments. Theoretical, empirical, and policy-oriented contributions from all areas of research are welcome.
We invite your original research work, case study and working paper
Cash Prize of Rs. 5,000/- for 1st Best Paper
Cash Prize of Rs. 3,000/- for 2nd Best Paper
All the papers would be awarded a 'Certificate of Participation' and selected papers would be published in an ISSN journal.
We look forward to your participation in the conference. Also, we request you to kindly circulate this brochure to your network of colleagues, friends and students' so that they can also be benefited from the same.
Kindly refer to the enclosed brochure for all necessary details.
Any queries regarding Conference can be routed to: conference@imdr.edu
Programme, Registration and Research Paper-related Queries
Dr. Suraj Kamble : Mobile : +91 9173074297
Dr. Shruti Nagar : Mobile : +91 9897910917
Dr. Giribala Dewasthale : Mobile : +91 9822242101
DES's IMDR National Conferance Brochure 2021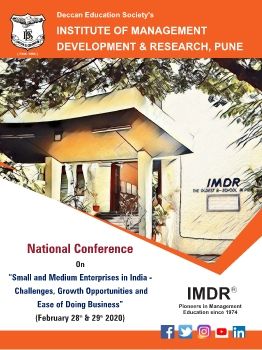 "Click here for E-Book DES's IMDR National Conferance Brochure 2021