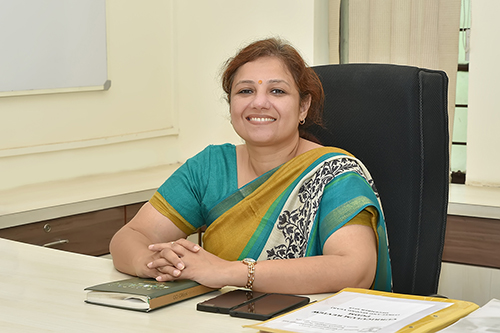 Greetings from IMDR!
I am happy to introduce to you the 45th batch of management students, the class of 2018-2020.
This talented and highly motivated batch of students has been groomed with inputs from academic and industry experts and is well equipped to perform in Finance, Marketing, Human Resource, Operations, Systems and International Trade domains. Over four decades of IMDR legacy reflects in these young professionals through their values, thought process and decision making. Curriculum at IMDR incorporates evolving skill set demands. Encompassing a blend of cutting-edge core courses and specialized electives, it ensures a firm grounding to navigate through the challenges of dynamic business and economy. Curriculum delivery is formatted with extensive stakeholder interface ensuring that learner's development is holistic and learning process is contemporary. IMDR enables unique, integrated learning environments where 'learning' to do happens from 'doing' to learn. Ours is a learner-driven campus, where nurturing visions, setting goals, time and resource management, team work are well acquired with actual practice. Inevitably, IMDRites' readiness for the corporate world and their quick response to real business scenarios is par excellence.
Growth is out-bound and this is made possible by a porous campus. Learning and skilling opportunities are created within the campus through structured classroom and case study sessions, as well as in the course of out-bound programs such as internships and project work.
Inquiring mind is bred and fed through research and community sensitization programs. An IMDRite would, hence, be a compassionate and socially responsible corporate citizen with a quest to find enduring solutions.
I invite you to view the profiles of budding managers in this brochure. I am confident that you will find bright, versatile and committed young minds to take your corporate growth story forward.
I welcome you to our institute and look forward to your participation on our Campus Placement Program.
Dr. Shikha Jain
Director, IMDR