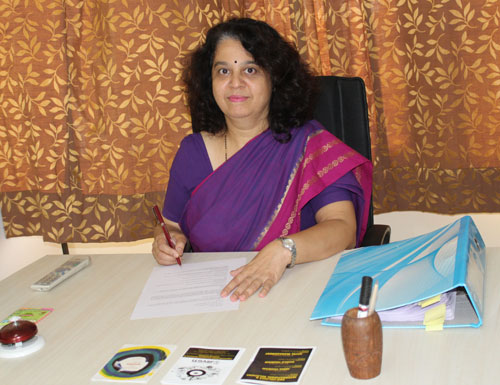 Message from Placement Committee
Dear Recruiters,
We live in a world that is volatile, uncertain, complex, and ambiguous. Now more than ever before it is difficult to predict how this world will morph itself. As an educational institute we are acutely aware that our role is not just to impart knowledge but also to help our students develop resilience and positivity to deal with this world. At IMDR we believe it is our mission to help our students to become thoughtful and sensitive professionals with a commitment to simultaneously contributing to the environment and self.
The three pillars of our learning processes at IMDR are: Learning to learn, Instructional Systems Design Methodology and Reflection and Relatedness.
We believe that the only constant in an ever-changing world is the ability to learn. Accordingly, students are encouraged to develop their own learning objectives which are fulfilled through the curriculum as well as co-curricular and extra-curricular activities. Students work in teams on in-class case studies and assignments as well as field assignments. In addition, they work on various committees including placements, alumni connect, publications, entrepreneurship, cultural activities, and sports. This helps build leadership skills and the ability to work in teams. In addition, students are given opportunities for upskilling both on and off campus.
Our curriculum is responsive to industry needs and framed using the Instructional Systems Design Methodology. In this subjects in each semester are linked through learning outcomes. In addition, subjects in each semester have forward and backward linkages with subjects in preceding and succeeding semesters. This leads to effective learning for students and is particularly important as management is interdisciplinary field of practice.
We encourage our students to learn through reflection and introspection in all that they do and, to develop relatedness with each other and their context of study and work.
IMDR offers dual specialization to students wherein they have a major and minor specialization area. Of the ten elective subjects, six are in their major specialization and four in their minor specialization. This gives them the ability to perform tasks in more than one domain in their entry level jobs and enhances their value.
Students have diverse graduation backgrounds and have done their summer internships in different industry sectors. We believe this equips them to contribute positively to different functional areas.
We welcome you to IMDR for the campus recruitment process for the academic year 2020-21!
Dr. Giribala Dewasthale
Head of Placements and Internships
Dr. Abhijeet Shivane, Faculty
Prof. Dilip Ranadive, Faculty
Student Coordinators: Shameeka Bhand, Tushar Patil, Lahari Battula, Swati Kalra, Sayali Zende, Vinayak Tambat.