Page 10 - IMDR MSME BOOK 2021
P. 10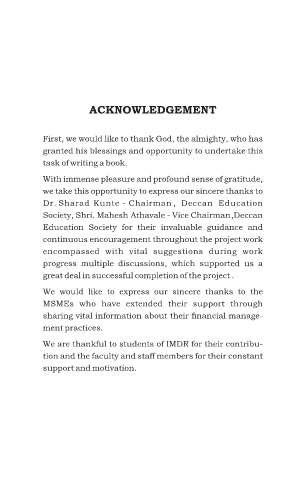 ACKNOWLEDGEMENT



             First, we would like to thank God, the almighty, who has
             granted his blessings and opportunity to undertake this
             task of writing a book.

             With immense pleasure and profound sense of gratitude,
             we take this opportunity to express our sincere thanks to
             Dr. Sharad Kunte - Chairman ,  Deccan  Education
             Society, Shri. Mahesh Athavale - Vice Chairman, Deccan
             Education  Society  for  their  invaluable  guidance  and
             continuous encouragement throughout the project work
             encompassed  with  vital  suggestions  during  work
             progress  multiple  discussions,  which  supported  us  a
             great deal in successful completion of the project .

             We  would  like  to  express  our  sincere  thanks  to  the
             MSMEs  who  have  extended  their  support  through
             sharing vital information about their nancial manage-
             ment practices.

             We are thankful to students of IMDR for their contribu-
             tion and the faculty and staff members for their constant
             support and motivation.